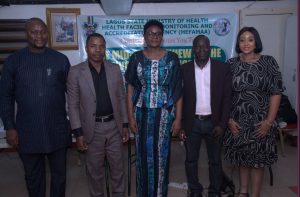 The Health Facility Monitoring and Accreditation Agency last week held a review meeting on the activities of the franchise companies engaged to monitor both public and private health facilities in Lagos State.
According to the Chairman of the Governing Board of HEFFAMAA, Dr Yemisi Solanke-Koya represented by a Board member, Mr Olurotimi Awojide, the review of the pilot phase of the franchise initiative was to identify the challenges faced by the franchise companies while monitoring the facilities, get feedback from them and bridge identified gaps.
In her welcome speech, the Executive Secretary of the Agency, Dr Abiola Idowu disclosed that the recruitment of the franchisees has greatly improved the efficiency of the Agency's monitoring activities. "Within three months, the franchisees had monitored 932 health facilities across the State. Before, the Agency visited a little over 1,000 facilities yearly," she stated.
She further explained that the meeting also aimed at assessing the performances of the franchisees, addressed their challenges and also served as an avenue to urge health facilities to cooperate with them for a smooth exercise so as to improve the quality of healthcare services to Lagosians.
The event, held at the Lagos Chamber of Commerce and Industry (LCCI), Ikeja, was attended by members of the Agency's Governing Board, Professional Associations, and the franchise companies.
Other activities held at the meeting were presentations on Incidences Requiring Notification by Operators of Health Facilities by the Head of the Legal Dept., Mrs Anthonia Oredipe; Gaps in the Activities of Franchisees & Training on the Appropriate Use & Filling of Compliance Notices by the Head of the Monitoring Dept., Dr Daniel Olayinka and Evaluation of Franchisees by the Head of Statistics, Dr Olorunfemi Olonire.
More Photographs from the event: